Centro Storico Lebowski is a football club established in 2010, founded and run by its supporters, who are also its only and irreplaceable owners. Luckily, there are some pictures that can tell the story of what "Lebowski" was well before 2010, pictures with fans and characters in them. Were it not for these pictures, even we would struggle to believe all the history that lies behind us.
You can find our history here.
But in sum, this is our story…
In 2004, a group of friends decided to follow the (mis)fortunes of a team that played in Florence's terza categoria, the 9th (and bottom) division of Italian football. Partly as a joke, and partly due to the fact that some of these lads in the curva Fiesole, the group started organizing their support at the matches, with flags, banners, and songs. In 2010, after 5 years constantly following Florence's worst team, those ultras became the founders of a new club, USD Centro Storico Lebowski.
When USD Centro Storico Lebowski was established in July 2010, much of what has happened since was nowhere near imaginable. At the time, the club was so fragile that only the foolhardiest would have betted on its survival beyond its first season. In between all these uncertainties, some things were nonetheless clear even back then: CSL was supposed to become the first great experiment with shareholding by the people in Italian football. It was supposed to be the first Italian club whose ownership would actually be collective, horizontal, immune from aggressive takeovers. This vision had its ethical and political motivations, but it also emerged from observing how the crisis of many semi-professional (and even professional) sports clubs originated from a risky organizational model. If a sports club is supported entirely by a rich owner or by a business, it is completely dependant on its fortunes and failings, on the owner's whims, on what is convenient to him or her. We have come across too many clubs who were forced to close down or downsize over the course of just a few weeks due to their owners' difficulties or distancing.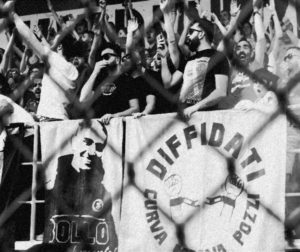 A sports club, on the contrary, is a crucial asset for any community. It is a place of education, of health and well-being, where people come together, where they have fun. It is not admissible for it to vanish from one moment to the next. And above all, it must always be accessible to all.
For this reason, from the very start, we chose an organizational model where there would not be not "one" man or woman who would give "everything", but "many" who would each give what "little" they could. If "many each give a little", every season the club will have a solid base upon which to make its plans and evolve further. The main way of giving that "little" is by becoming a member.
After eight years, we have won 3 league titles, moving up from the Terza Categoria to the Promozione (the sixth division of Italian football). We have created an entirely free-of-charge football school for the children of San Frediano, in the midst of Florence's historic city centre, in a public park embroiled in a legal dispute aiming at halting an attempt at property speculation. Our roster also includes two amateurs' teams and a women's football team. And lastly, after endless wandering, we finally have our own home, thanks to the decisive encounter and synergy with USD Impruneta-Tavarnuzze football club.
Become part of CS Lebowski!